Exhibition
In the beginning was an envelope
Celebrating 20 Years on the Estate
16 December - 11 February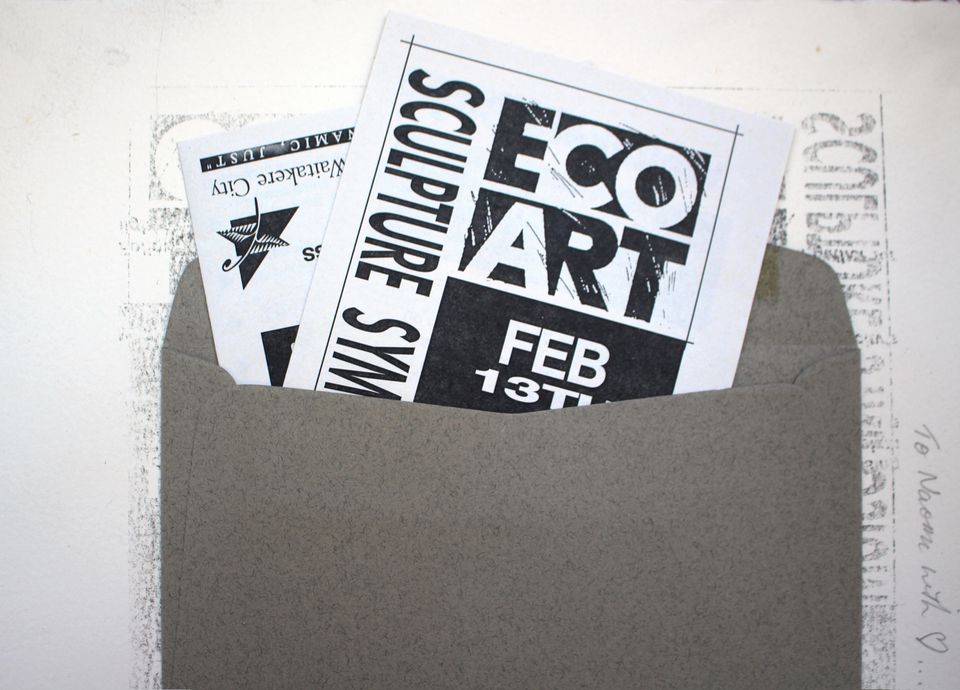 Before Corban Estate became an Arts Centre, there stood an iconic site in Henderson and an idea that arrived in an envelope. Under the guidance of Naomi McCleary and the then Waitakere City Council, a major creative project coined the Eco Art Sculpture Symposium was developed and came to be in the summer of 1995. A group of prolific artists from around Aotearoa were each tasked with developing a sculpture for the project that would be focused on sustainability and installed around the expansive site as it stood.
In the beginning was an envelope presents a fascinating suite of archival material from the Eco Art Sculpture Symposium in the form of original works on paper, various ephemera and a body of black and white photographs by seminal photographer, the late Glen Jowitt.
The project remains a significant marker in Corban Estate's more recent history, being the inspiring precursor for the Arts Centre's development by demonstrating the creative potential of what was possible for the large-scale space. Alongside group exhibition Seven Sculptors, the exhibition presents a celebration of sculpture in its many forms and the medium's integral part of Corban Estate Arts Centre's story, both past and future.

Online Gallery images by Ralph Brown.

View exhibition booklet here.
---
Location
The Homestead Galleries
Corban Estate Arts Centre
2 Mt Lebanon Lane
Henderson
Auckland