Workshop
Word-Up Wānanga
With Trixi Rosa + friends Eric Soakai, Ruby Macomber, Ema Barton, Talia, Manaia, Phodiso Dintwe + Mazbou Q!!
20 Aug

21 Aug

10:00AM - 4:00PM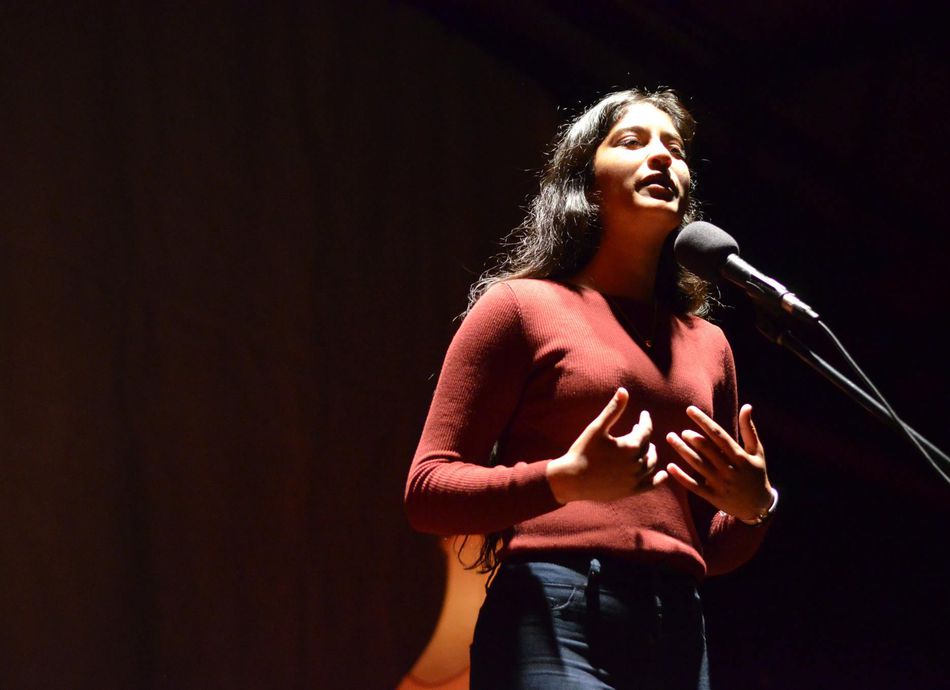 Calling all young performers, musicians, singers, rappers, poets and spoken word artists! Corban Estate Arts Centre is thrilled to offer a group of budding artists the opportunity to partake in the first-ever Word-Up Wānanga.
Over a dedicated weekend on-site, you will work collaboratively with a group of renowned artist mentors to develop your creative practice, creative writing, and performance skills.
Learning from some of these masters in the industry, the group will gain the tools and inspiration to develop a spoken word poem, song, rap, or creative performance with confidence. Concluding in a public performance night, Word-Up Walks, participants will have the opportunity to share their art and performance onstage.
Eric Soakai - Eric Soakai is an artist, activist and academic of Samoan, Tongan, German, Scottish and Irish descent. An award winning poet they are 2019 New Zealand National Slam Champion, 2021 University of Auckland Slam Champion with other various achievements. They have been published in academic journals such as Knowledge Makers Journal in Canada as well as online magazines such as Oscen. Their primary focus currently is on multiplicity and Selfhood.
Ruby Macomber - Ruby Macomber (Ngāpuhi/Oinafa) is an award-winning poet, creative essayist, researcher and tauira of Te-Moana-Nui-a-Kiwa. Her mahi centres on the creative exploration of intersectional feminism, and features in Awa Wāhine, Landfall, Starling, and Kete Books. She is currently writing 'Returning to Rotuma' a creative essay exploration into Rotuman youth experiences in Aotearoa.
Ema Barton - Ema I'u (aka Ema Barton) is a full-time Musician / Actor / Tutor and Poet based in Tāmaki Makaurau. She performs regularly with her cover bands Lucky May, Coco-Rocky and The Rocking Roller Coasters and is known as 'The Queen of Open Mic' having run multiple events over the last 7 years. Miss Barton has been writing songs since she was 12, developing a strong soulful voice and distinctive guitar style. Dabbling in R&B, jazz, pop and rock; Ema is focusing on a variety of recorded projects this year with her debut single Midnight Mistress coming out soon.
Talia - My name is Talia and I am a facilitator, youth development worker and spoken word poet. I am currently studying a Bachelor of Arts in Creative Writing and have a certificate in Pacific Performing Arts. I have been involved in performance poetry since I was a junior in high school, participating in the first year of the first inter high school poetry slam, Word - The Front Line to now working with the organisation that kick started my journey, Action Education.
Manaia - Manaia (Ngāpuhi, Ngāti Wai) is a young wahine Māori spoken word poet with a passion for storytelling. She uses spoken word as a platform to bring unspoken Māori issues and topics to light. She does this as part of the poetry collective, Ngā Hinepūkōrero. Together, Ngā Hinepūkōrero have participated in and won WORD - The Front Line in Auckland, the Trans Tasman Slam in Melbourne, and been semi-finalists at Brave New Voices, the largest international youth poetry slam in the world.
Phodiso Dintwe - Phodiso Dintwe is a musician, performer, and writer from Botswana. He was raised in his maternal grandmother's village, Lentswelemoriti, alongside the Limpopo River, a stone's throw from his kin over on the South African side of the water. Between these two places he began learning various Tswana & Pedi percussion styles at an early age. Music, dance and poetry are the gifts of his clan, BaMoganetsi, and so he learnt those too. He is currently based in Tāmaki Makaurau, Aotearoa, working as a musician and a performing arts practitioner-teacher. He has performed dance, music, and theatre in Botswana, South Africa, Lesotho, Malaysia, New Zealand, USA, Wales and England.
Mazbou Q - Mazbou Q is a UK-born, Tāmaki Makaurau based Nigerian artist, producer, content creator and educator. Stemming from his background in classical, heavy metal and West African Highlife, Mazbou Q's particular brand of Hiphop pushes the boundaries of the genre and captivates those with a deep appreciation for musicality. Known as 'The Rap Scientist' on Tiktok, Mazbou Q has amassed over 130,000 followers from his exposition and analysis of rhyme and rhythm techniques in rap music.
Apply for a place by telling us about your goals, dreams, and creative work below - don't be shy!
---
Info
Youth: 13 - 18
20 Aug21 Aug10:00AM - 4:00PM
Free

---
Location
Shed 2
Corban Estate Arts Centre
2 Mt Lebanon Lane
Henderson
Auckland