Exhibition
Turou - The call from our ancestors, the call to return home
Mary Ama, Tiana Epati, Annabella Hosking, Teuke Malaga, Soia Tatu
27 October - 10 December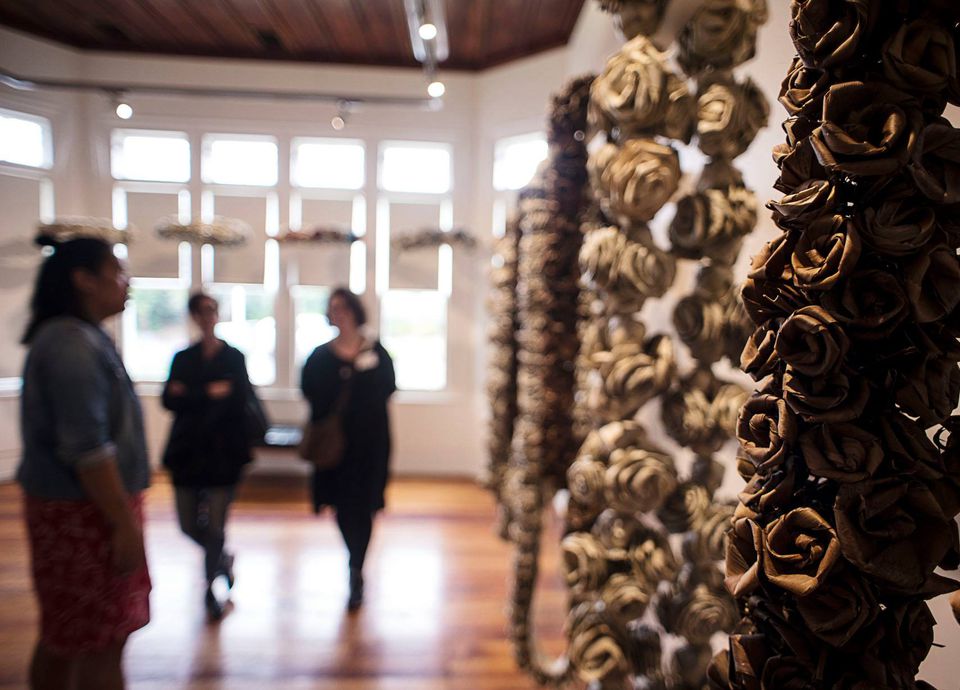 Opening Thursday 26 October,
6-8pm
The Pacifica Mamas are a collective of respected artists, knowledge holders and cultural community leaders. For more than 20 years the collective have been preserving, developing and transforming multiple Pacific art forms in Aotearoa and beyond. In the early '90s, the Pacifica Mamas were invited to work from an empty wine barrel shed on the Corbans Winery. Soon enough, they became residents there - establishing the Pacifica Arts Centre in 1994 as a permanent home base.
TUROU - The call from our ancestors, the call to return home - weaves together stories from the Pacific communities who call the Corban Estate home. It features the work of Mary Ama, Tiana Epati, Annabella Hosking, Teuke Malaga, and Soia Tatu

Mary Ama was born on Rarotonga in the Cook Islands. It is her deep connection with the master artists in her lineage that drives her passion for pacific arts in the modern age. Mary is a master pacific artist and knowledge-holder, renowned for her tivaevae and woven works. She has travelled around the world presenting her artistic knowledge in galleries, exhibitions and museums alike. Her passion for pacific arts drove her to set up the widely acclaimed Pacifica Mamas group in the late 1980s. This collective was awarded the prestigious Creative NZ Pacific Heritage Arts Award in 2012 – a formal recognition of their work. Mary set up a workshop program for prisons, earning the Pacifica Mamas the Arts Access Corrections Community Award in 2015. Twenty years after starting the collective, Mary continues to inspire fellow artisans, while working on her own masterpieces. In 2017 she was awarded the New Zealand Order of Merit – Companions, for services to the arts and Pacific community.
Tiana Epati hails from the village of Iva in Savai'i, Samoa. Her roots are firmly entrenched in fa'a Samoa – the Samoan way, and so, when she arrived in New Zealand she felt keenly that something was missing. She remembered the families in her village working together to create their art, and was inspired to find a way to relive those experiences here in New Zealand. She joined the Pacifica Mamas group around 15 years ago - fulfilling her desire to work in a collective - and has since developed a strong reputation as a gifted and accomplished weaver and lelei artist.
Annabella Hosking was born in 1950 to a creative family on the island of Rarotonga. Her upbringing was steeped in the Cook Islands culture and church and this is clearly reflected in her art works. While she has spent many years as a singer, performer, and recording artist, it is the work that she has created from both contemporary and natural resources that best represent her thinking around the arts. The flora and fauna of the Cook Islands is the ongoing theme and inspiration of the art works she produces.
Teuke Malaga was born in 1943 on a tiny motu named Funafekai in the middle of the Vaitupu lagoon of Tuvalu. Her early years were spent at her mother's knee watching women weave and soaking up traditional culture. Teuke moved to New Zealand with her husband and children in the mid 1990s, but says her heart always yearned for Tuvalu. She is recognised as a founding member of the Pacifica Mamas group and known for her exceptional weaving talents. Mama Teuke has worked alongside master artists and emerging artists alike and during her time with the Pacifica Mamas she has honed her own traditional Tuvaluan weaving skills.
Soia Tatu migrated from her home in Niue to New Zealand in 1959. She travelled by boat at the age of 14 to join her family who had already migrated the year before. She'd spent her early years in Niue watching her mother and aunties weave but it wasn't till her later years she decided to try her hand at it. She joined a Niuean Weaving group and took up classes in crochet and knitting and joined the Pacifica Mamas in 2012. She says that her own weaving skills have thrived thanks to her time with the mamas and she particularly enjoys gaining insight into the different styles from around the pacific.
A night of Moana Pacific Storytelling
Thursday 9 November, 6-7pm

'Moana Pacific Storytelling' – a night of storytelling from around the pacific. Storytelling across the pacific is beautiful and unique – each island has its own flavour, each storyteller has their own style. This storytelling night brings it all together for one night. Enjoy a tale from Fiji, Tonga, Samoa and the Cook islands as part of the Pacifica Mamas 'Turou' exhibition.
---
Location
The Homestead Galleries
Corban Estate Arts Centre
2 Mt Lebanon Lane
Henderson
Auckland