Exhibition
Forgotten Vessels – Waiting for the Early Dawn
Nature's Gentleman and Sistar S'pacific
16 September - 30 October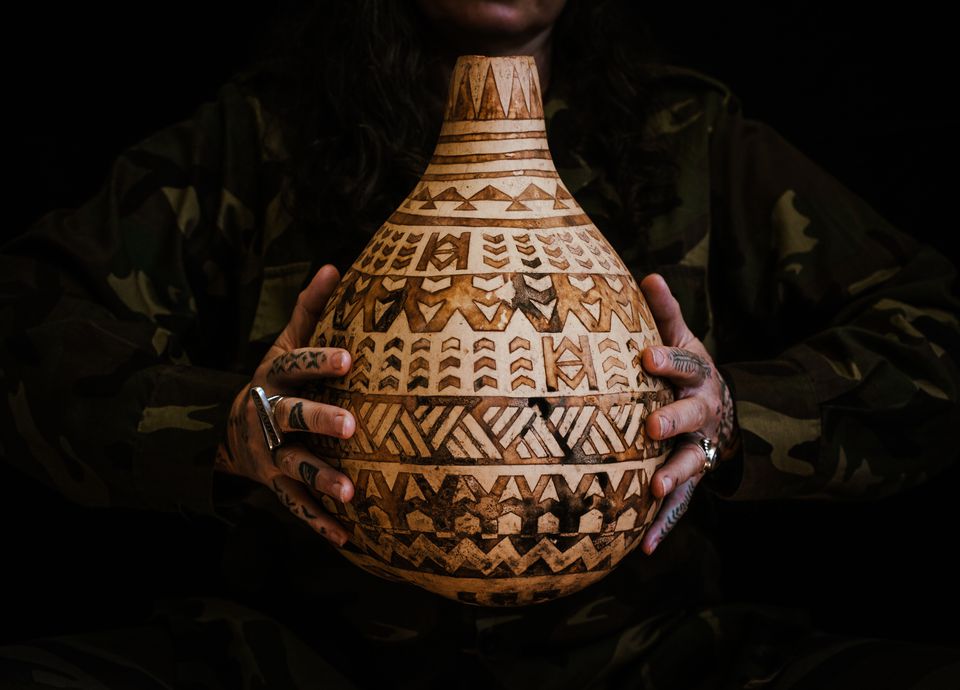 Nature's Gentleman (Numa Mackenzie) and Sistar S'pacific (Rosanna Raymond) have collaborated countless times over the past decade as part of the renowned SaVĀge K'lub. Expanding on their shared creative history, Forgotten Vessels – Waiting for the Early Dawn presents a dual exhibition where the artists each explore their solo-practices in conversation with one another, through the use of sound, craft-based practice and hue carving. Alongside their individual installations, the duo nod to their ongoing work as part of the SaVĀge K'lub collective in a third space serving as recreation of their shared artist studio Ana Pekapeka, lending space for activations, workshops and conversations throughout the exhibition.

In an immersive installation Waiting for the Early Dawn, Sistar S'pacific explores how the experience of war, both ancient and modern, has defined land and the living. Women through the centuries have often fulfilled the role of peace keepers and healers. Particularly in precolonial Samoa, women of rank would be able to pass freely as mediators and messengers between warring camps. Inspired by the atua Hine te Pū Hue who inhaled her brother's rage breathing a song of healing and calm, Waiting for the Early Dawn employs sound and craft-based practice in collaboration with Pepe Tuna Studio sound artist Salvador Brown, to invite us to experience the transient emotions of rage and healing.

Nature's Gentleman presents a reclamation of hue in Forgotten Vessels, exploring the hue's use, function and embellishment in contemporary art practice and across communities. Nature's Gentleman explores his journey cultivating hue, sharing the communal support and collective celebration of the natural resource experienced along the way. Through delicate carving and time intensive process, his new suite of hue-based works embodies his journey, reigniting and reimagining the significance of such techniques and objects in contemporary practice.
View exhibition booklet and artist bios here.
View catalogue here.

Online Gallery images by Ralph Brown.
---
Location
The Homestead Galleries
Corban Estate Arts Centre
2 Mt Lebanon Lane
Henderson
Auckland