Event
Kia Ora Shorts 2018
With Wairoa Māori Film Festival
Thu 12, Fri 13 July
7.30pm-9.30pm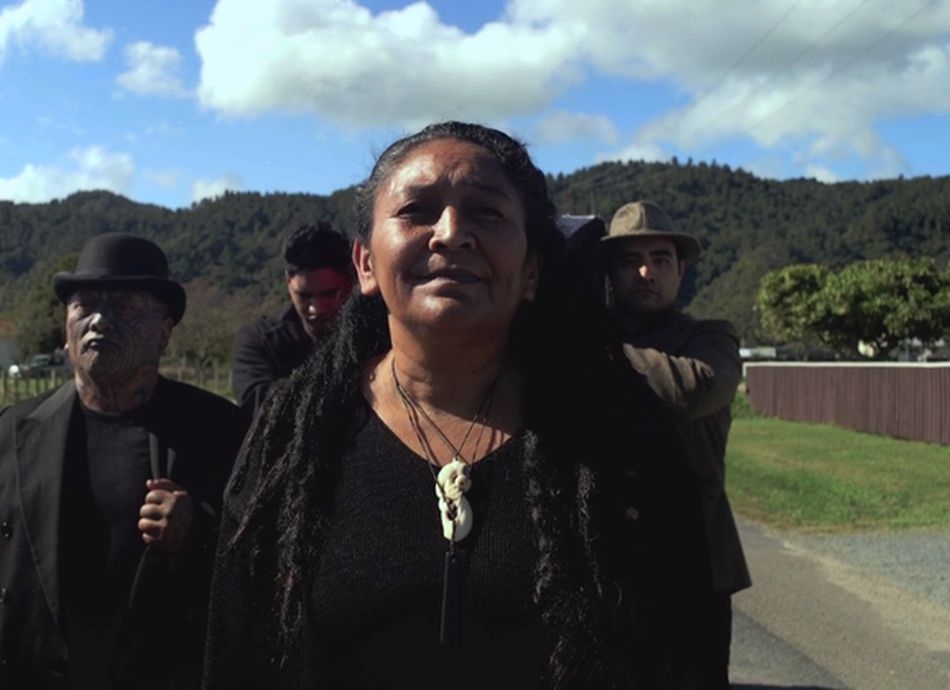 A programme of Māori-made and themed short films curated by Leo Koziol of the Wairoa Maori Film Festival Inc., presented at the Corban Estate Arts Centre as part of the Matariki Festival.
"Te Ao Mai Nga Whatu Māori" —The world through a Māori lens, film works all directed or produced by film makers of Māori descent.
Thursday's screening will be followed by a Q&A with some of the films' directors and crew
Bookings advised.
For more information and bookings: (09) 838 4455 or info@ceac.org.nz.
Eftpos and cash bar available.
Suitable for: Ages 18+
FILMS:
NEW TAKEOVER – Stan Walker
Best Video Māori Music Awards 2017
Music Video Stan Walker 2017 4 min NZ Director: Shae Sterling (Māori)
THE TUHOE COLOUR
Director Sebastian Vidal Bustamante 2016 11 min NZ
The Tuhoe Colour showcases Tame Wairere Iti – the New Zealand artist and the creative space he created in Taneatua at the centre of the Tuhoe heartland.
MARATHON
Director Sebastian Vidal Bustamante 2017 19 min NZ
Marathon is an uplifting drama focused on music teacher Philip, who battles neurosis and an existential crisis to find healing through running.
PUORO Komako-Aroha Silver (Māori) 2017 13min NZ
A story following the journey of Jerome Kavanagh, a young Māori practitioner of taonga puoro (traditional instruments used in sacred, ritual and healing ceremonies) as he revives ancient ancestral practices in our contemporary world. (documentary) Puoro – Best Maori Short Wairoa 2018
NATALIE
Director Qianna Titore (Maori) Producer Eloise Veber
Exec Producer Michael Bennett (Maori) 2017 9 min NZ
A coming of age drama set in the Far North's Hokianga harbour. On the day that 14-year-old Natalie is given a precious waiata composed by her deceased Koro, she is unexpectedly thrown into a journey that will leave her changed forever. Natalie – Community Award Wairoa 2017
TAMA
Directors Jared Flitcroft (Maori, Deaf) & Jack O'Donnell 2017 9 min NZ
Tama is the result of a unique collaboration between deaf and hearing filmmakers. Tama is about a young Maori deaf boy who wants to learn the Haka. On a near fatal car trip, Tama has to confront his family. In his struggle he begins to grow from an undervalued youth into a proud young man.
Tama - Best Maori Short Wairoa 2017
WAITING
Writer Samuel Kamu (Pasifika) Director Amberley Jo Aumua (Pasifika/Maori) 2017 12 mins NZ (Unitec)
Two best friends become brothers as they wait for a life-changing phone-call. Winner - Best Short, NZ's Best, NZIFF 2017. TIFF 2017.
---
Info
Free
We apologise for an error on some promotion, which advertised Kia Ora Shorts being held on 5 July. The Kia Ora Shorts programme is being held on 12 and 13 July at Corban Estate Arts Centre starting at 7.30pm.
$8 entry
Door sales, Eftpos and cash bar available.
To book: (09) 838 4455
info@ceac.org.nz
---
Location
Opanuku
Corban Estate Arts Centre
2 Mt Lebanon Lane
Henderson
Auckland