Workshop
Hei Whāriki
With Ruth Woodbury
*Workshop Cancelled. We apologise for any inconvenience caused*

5 Days
Mon 17 – Thu 20 January 2022
10am - 4.30pm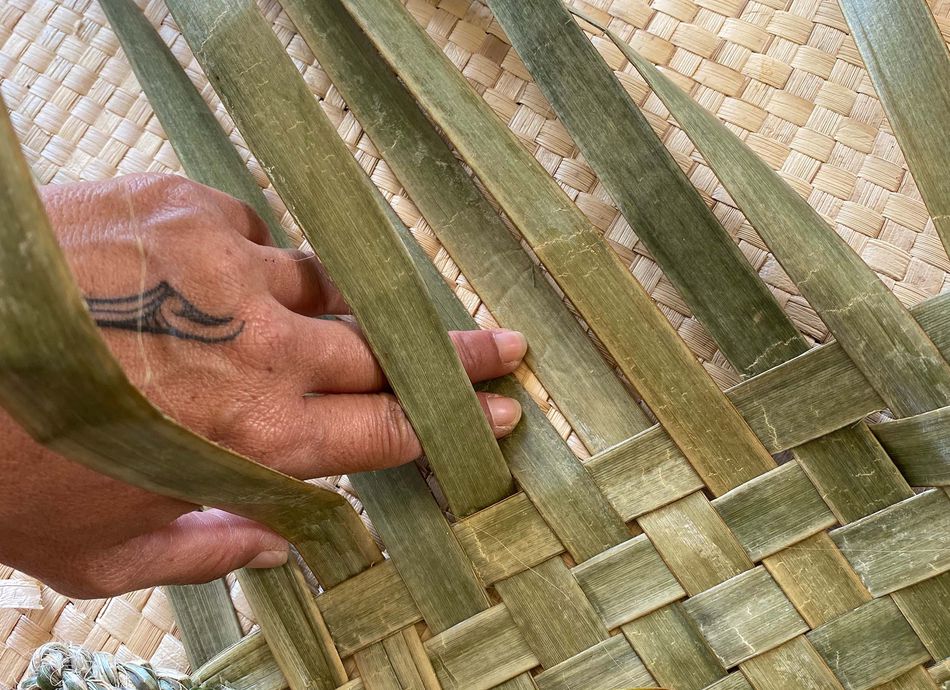 *Workshop Cancelled. We apologise for any inconvenience caused*
Immerse yourself within Te Whare Pora – the art of weaving, with master weaver Ruth Woodbury of Raranga Creations. Over this 4 day workshop, you will gain an introduction to raranga weaving and will learn all steps of the process from harvesting, to contemporary dyeing, to weaving under Ruth's guidance.
This workshop will give participants the knowledge to be able to identify types of whāriki (floor mats), prepare Kōrari/Harakeke (New Zealand flax) for weaving and learn about weaving and plaiting patterns.
You will use all the tools and knowledge throughout the week to create your own raranga whāriki tūwhara. Ruth's workshop is suitable for beginners and more experienced weavers who want to broaden their knowledge and skills in Te Whare Pora. Nau mai, haere mai!
Includes some materials. $110 kit to be purchased from tutor direct at the commencement of the workshop.

About Ruth Woodbury:

Ruth Woodbury (Ngatī Korokoro, Te Pouka, Ngatī Wharara, Te Hikutu) is a master weaver, artist and arts educator. Throughout her career, Ruth has centred her practice around intergenerational knowledge transfer, and the activation of Māori cultural practices through cultivation of materials and fabrication of resources. In 2018, she was awarded the Toi Sqwigwialtxw Residency, an exchange with Evergreen State College in Washington, USA, where she had the opportunity to collaborate with Indigenous American artists and weavers. She has also collaborated with the Kanaka peoples of New Caledonia, Aboriginal and Torres Strait Islander peoples of Australia, Moriori of the Pacific, Nlaka'pamux Nation, Tlingit, Inupiaq of Alaska and the Paiute of California. Ruth is an active member of SaVAge K'lub Collective and is the sole member of Raranga Creations, through which she channels her raranga and whāriki practice.

www.facebook.com/RarangaCreations
---
Info
Adults: 18+
*Workshop Cancelled. We apologise for any inconvenience caused*

5 Days
Mon 17 – Thu 20 January 2022
10am - 4.30pm
$450.00